About Us
BrainBees Cognitive Neuroscience Sdn. Bhd. is a spin-off company from Smart-Ed Asia Dot Com Asia Sdn. Bhd. which was founded in 1999. The company is the maker of the education and training provider that offers multimedia content, educational systems and solutions services.
The company's principle activity is providing creative multimedia content for teaching and learning languages through Internet to facilitate the learning of Mandarin to the world. Our products target at kids and adults, who would like to learn Mandarin as a second language and instructors, educators for teaching resources worldwide.
A blended learning model by incorporating multimedia in class teaching for adults was introduced to corporate and individual adult since 2009. The product was called 'Mandarin4all' to support the adult students to do revision after the class teaching under www.mandarin4all.com. It contains fun learning elements, sound instructional design in order to create a motivational environment for the young second language learner to learn with more excitement and confidence. After all, Mandarin is a challenging language and it is going to be the new 'must learn' language for many.
Trainer's Profile :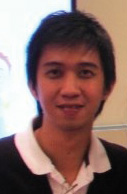 Mr. Choy Wui Kong, a subject matter specialist with vast experience, having been teaching Mandarin to adults and children for more than five years. Choy's understanding of Mandarin is deep as he led the projects such as e-content development for Mandarin learning programme for kids, Mandarin communication programmes for adults, simulated mandarin lessons as well as mobile mandarin content.
Choy has designed and developed a blended learning approach called 'Mandarin for Adults', which is a classroom-based programme that uses visual auditory simulation to accelerate the idea of technology-facilitated education. This programme provides e-learning through a face-to-face teaching approach, which was well-received by a number of CEOs and industrial workers that were hoping to learn Mandarin as a second language. Using multimedia as a platform, Choy successfully incorporated spiral learning methods into online learning to reduce revision time, which in turn enhanced the outcome of the adult learners. The effectiveness of Choy's method can be seen in the host of corporate and education-based clients he has worked with, which include CIMB, RHB bank and Wawasan Open University (WOU).